This week's prompt is "books I'd slay a lion for." I would definitely never slay a lion in real life but I could slay a few pretend ones for these amazing releases. I always think it's so fun to make lists of books I can't wait to read! Doesn't it seem like every year there are more and more amazing books releasing?
Here are the top then books I would slay a (metaphorical) lion for:
1. Things Jolie Needs to Do Before She Bites It by Kerry Winfrey (I think I've talked about Kerry's first book, Love and Other Alien Experiences several times on my blog now and I really loved that book and the way it depicted mental health. I am definitely a Kerry fan for life now and I was so stoked to find out that she'll have a new book soon!) Out on July 10, 2018!
"Months before her underbite corrective surgery, Jolie decides she needs to live life to the fullest—just in case the surgery doesn't go as expected in this funny and honest YA novel.
Jolie's a lot of things, but she knows that pretty isn't one of them. She has mandibular prognathism, which is the medical term for underbite. Chewing is a pain, headaches are a common occurrence, and she's never been kissed. She's months out from having a procedure to correct her underbite, and she cannot wait to be fixed.
While her family watches worst-case scenario TV shows, Jolie becomes paralyzed with the fear that she could die under the knife. She and her best friends Evelyn and Derek decide to make a THINGS JOLIE NEEDS TO DO BEFORE SHE BITES IT (WHICH IS SUPER UNLIKELY BUT STILL IT COULD HAPPEN) list. Things like: eat every appetizer on the Applebee's menu and kiss her crush, Noah Reed. Their plan helps Jolie discover what beauty truly means to her. " -Goodreads synopsis
2. To Be Honest by Maggie Ann Martin (First of all, take the time to appreciate this gorgeous cover! Maggie is another author who I read last year and loved. Her book, The Big F, was one of the few community college books that I've read and I loved that she highlighted it in such a positive way. To Be Honest sounds so great too! ) Out on August 21, 2018!
"Savannah is dreading being home alone with her overbearing mother after her sister goes off to college. But if she can just get through senior year, she'll be able to escape to college, too. What she doesn't count on is that her mother's obsession with weight has only grown deeper since her appearance on an extreme weight-loss show, and now Savvy's mom is pressuring her even harder to be constantly mindful of what she eats.
Between her mom's diet-helicoptering, missing her sister, and worrying about her collegiate future, Savvy has enough to worry about. And then she meets George, the cute new kid at school who has insecurities of his own. As Savvy and George grow closer, they help each other discover how to live in the moment and enjoy the here and now before it disappears. " -Goodreads synopsis
3. This is What It Feels Like by Rebecca Barrow (Okay for some reason this book really reminds me of Crossroads, that 00s movie with Britney Spears? I don't know but I love the when best friends reunite so I am so here for this book!) Out on November , 2018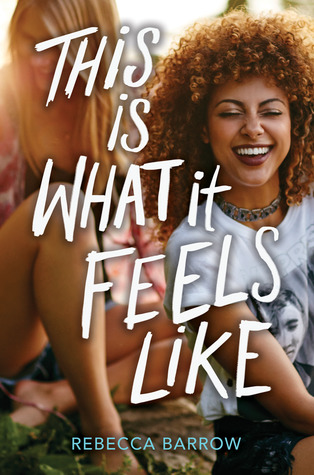 "It doesn't matter what the prize for the Sun City Originals contest is this year.
Who cares that's it's fifteen grand? Who cares about a gig opening for one of the greatest bands to ever play this town?
Not Dia, that's for sure. Because Dia knows that without a band, she hasn't got a shot at winning Sun City. Because ever since Hanna's drinking took over her life, Dia and Jules haven't been in it. And ever since Hanna left — well, there hasn't been a band.
It used to be the three of them, Dia, Jules, and Hanna, messing around and making music and planning for the future. But that was then, and this is now — and now means a baby, a failed relationship, a stint in rehab, all kinds of off beats that have interrupted the rhythm of their friendship. No contest can change that. Right?
But like the lyrics of a song you used to play on repeat, there's no forgetting a best friend. And for Dia, Jules, and Hanna, this impossible challenge — to ignore the past, in order to jumpstart the future — will only become possible if they finally make peace with the girls they once were, and the girls they are finally letting themselves be.
Rebecca Barrow's tender story of friendship, music, and ferocious love asks — what will you fight for, if not yourself? "-Goodreads synopsis
4. Finding Yvonne by Brandy Colbert (This is another gorgeous cover that uses my two favorite colors–turquoise and pink! Brandy Colbert blew me away with her book, Little & Lion so I can't wait to read more from her.) Out on August 7, 2018
"Since she was seven years old, Yvonne has had her trusted violin to keep her company, especially in those lonely days after her mother walked out on their family. But with graduation just around the corner, she is forced to face the hard truth that she just might not be good enough to attend a conservatory after high school.
Full of doubt about her future, and increasingly frustrated by her strained relationship with her successful but emotionally closed-off father, Yvonne meets a street musician and fellow violinist who understands her struggle. He's mysterious, charming, and different from Warren, the familiar and reliable boy who has her heart. But when Yvonne becomes unexpectedly pregnant, she has to make the most difficult decision yet about her future." -Goodreads synopsis
5. Analee, in Real Life by Janelle Milanes (I always enjoy books about online identities and geek culture. I'm also happy to see a book that legitimizes how important online friendships can be. I've heard nothing but good things about Janelle's first book, The Victoria in My Head, and I hope to read it soon too!) Out on September 18, 2018
"Ever since her mom died three years ago, Analee Echevarria has had trouble saying out loud the weird thoughts that sit in her head. With a best friend who hates her and a dad who's marrying a yogi she can't stand, Analee spends most of her time avoiding reality and role-playing as Kiri, the night elf hunter at the center of her favorite online game.
Through Kiri, Analee is able to express everything real-life Analee cannot: her bravery, her strength, her inner warrior. The one thing both Kiri and Analee can't do, though, is work up the nerve to confess her romantic feelings for Kiri's partner-in-crime, Xolkar—aka a teen boy named Harris whom Analee has never actually met in person.
So when high school heartthrob Seb Matias asks Analee to pose as his girlfriend in an attempt to make his ex jealous, Analee agrees. Sure, Seb seems kind of obnoxious, but Analee could use some practice connecting with people in real life. In fact, it'd maybe even help her with Harris.
But the more Seb tries to coax Analee out of her comfort zone, the more she starts to wonder if her anxious, invisible self is even ready for the real world. Can Analee figure it all out without losing herself in the process? " -Goodreads synopsis
6.Pride by Ibi Zoboi (For someone who doesn't really care about Pride & Prejudice, I sure do read a lot of retellings! I really love a good enemies to lovers story and this one sounds fantastic!) Out on September 18, 2018!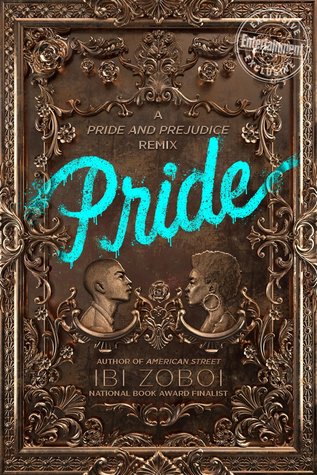 "Zuri Benitez has pride. Brooklyn pride, family pride, and pride in her Afro-Latino roots. But pride might not be enough to save her rapidly gentrifying neighborhood from becoming unrecognizable.
When the wealthy Darcy family moves in across the street, Zuri wants nothing to do with their two teenage sons, even as her older sister, Janae, starts to fall for the charming Ainsley. She especially can't stand the judgmental and arrogant Darius. Yet as Zuri and Darius are forced to find common ground, their initial dislike shifts into an unexpected understanding.
But with four wild sisters pulling her in different directions, cute boy Warren vying for her attention, and college applications hovering on the horizon, Zuri fights to find her place in Bushwick's changing landscape, or lose it all." -Goodreads synopsis
7. What If It's Us by Becky Albertalli and Adam Silvera (Okay, if you don't have this book on your most anticipated reads then what is wrong with you? I really love both of these authors and I'm excited to see how they put this story together!) Out on October 9, 2018!
"Arthur is only in New York for the summer, but if Broadway has taught him anything, it's that the universe can deliver a showstopping romance when you least expect it.
Ben thinks the universe needs to mind its business. If the universe had his back, he wouldn't be on his way to the post office carrying a box of his ex-boyfriend's things.
But when Arthur and Ben meet-cute at the post office, what exactly does the universe have in store for them?
Maybe nothing. After all, they get separated.
Maybe everything. After all, they get reunited.
But what if they can't quite nail a first date . . . or a second first date . . . or a third?
What if Arthur tries too hard to make it work . . . and Ben doesn't try hard enough?
What if life really isn't like a Broadway play?
But what if it is"  -Goodreads synopsis
8. That's Not What Happened by Kody Keplinger (I really trust Kody to tell a thoughtful and sensitive story about school shootings. She wrote such an honest portrayal of poverty in the south in her book Run.) Out on August 28, 2018
"It's been three years since the Virgil County High School Massacre. Three years since my best friend, Sarah, was killed in a bathroom stall during the mass shooting. Everyone knows Sarah's story–that she died proclaiming her faith.
But it's not true.
I know because I was with her when she died. I didn't say anything then, and people got hurt because of it. Now Sarah's parents are publishing a book about her, so this might be my last chance to set the record straight . . . but I'm not the only survivor with a story to tell about what did–and didn't–happen that day.
Except Sarah's martyrdom is important to a lot of people, people who don't take kindly to what I'm trying to do. And the more I learn, the less certain I am about what's right. I don't know what will be worse: the guilt of staying silent or the consequences of speaking up . . . " -Goodreads synopsis
9. Ayesha At Last by Uzma Jalaluddin (Okay so this is another Pride & Prejudice retelling so I'm starting to think that maybe I do like that story? This one just sounds so good okay. And this one has a forbidden lovers twist! ) Out on June 12, 2018
"AYESHA SHAMSI has a lot going on.  Her dreams of being a poet have been set aside for a teaching job so she can pay off her debts to her wealthy uncle. She lives with her boisterous Muslim family and is always being reminded that her flighty younger cousin, Hafsa, is close to rejecting her one hundredth marriage proposal. Though Ayesha is lonely, she doesn't want an arranged marriage. Then she meets Khalid who is just as smart and handsome as he is conservative and judgmental. She is irritatingly attracted to someone who looks down on her choices and dresses like he belongs in the seventh century.
When a surprise engagement between Khalid and Hafsa is announced, Ayesha is torn between how she feels about the straightforward Khalid and his family; and the truth she realizes about herself. But Khalid is also wrestling with what he believes and what he wants. And he just can't get this beautiful, outspoken woman out of his mind. " -Goodreads synopsis
10. You'd Be Mine by Erin Hahn (This book doesn't even have a final cover and it's not published until 2019  but I know I will adore it.  ) Out on April 2, 2019!
"Seventeen-year-old Annie Mathers is the folksy heiress to a country music dynasty that ended in her parents' tragic deaths five years ago. Since then, she's been hiding on her grandparents' farm where she intends to stay. Indefinitely. That is, until superstar Clay Coolidge shows up on her porch and convinces her to join his summer tour.
At just eighteen, Clay's already made a career out of singing songs about booze and hookups and at this point, it's hard to tell whether life's imitating art or vice versa. Despite filling stadiums, his record label worries country music's most affable bad boy has become a liability. To them, there's a chance sweet Annie could be his salvation, with her wholesome hills music and guileless persona. To salvage his tour, Clay's more than happy to share his stage with her famous last name.
Soon enough it's clear Annie is a rising star in her own right. Her easy charisma charms every audience along with her frank lyrics and smoky vocals. Meanwhile, Clay is in a spiral of self-destruction after the death of his brother. Over a year of soothing his grief with alcohol and nameless girls has taken it's toll and suddenly he's not sure if a career in country music is what he wants. Maybe all he wants is Annie, who despite everything, has found a way past his careful barriers.
If there's one part of fame Annie wants nothing to do with, however, it's a high-profile relationship. She had a front row seat to the volatile marriage and deaths of her celebrity parents and isn't interested in repeating history. If only she could convince her heart that Clay, with his whiskey tenor and painful past isn't worth the risk. "-synopsis from Erin Hahn's website
What book are you looking forward to the most?