It's Monday! What are you Reading? is a meme started by Sheila at Book Journeys and now hosted by Kathryn at The Book Date. It is a great way to recap what you read and/or reviewed the previous week and to plan out your reading and reviews for the upcoming week. It's also a great chance to see what others are reading right now…you just might discover the next "must-read" book!
 Jen, of Teach Mentor Texts, and Kellee and Ricki, at UnleashingReaders decided to give It's Monday! What Are You Reading? a kidlit focus.
I had such a great weekend! I saw The Hate U Give, went to the library book sale, had lots of coffee, and finally watched The Christmas Prince on netflix. I also finished a lot of books! I'm looking forward to another week of reading
Here's what I'm currently reading:
Blended by Sharon M. Draper

I recently received this ARC from Simon & Schuster. It's a middle grade novel about a half-white, half-black girl dealing with her parents' divorce. I'm excited to have the chance to read this book early since I remember loving lots of Sharon's books when I was in middle and high school.
Add Blended to your Goodreads shelf
---
Beware, Dawn by Ann M. Martin
Because I'm a total nerd, I love reading the BSC mysteries series during October and I just realized I haven't read any yet this month. In my BSC reread, I've never really figured out how I want to incorporate the super specials, mysteries, and super mysteries so I kind of just read them when I'm in the mood for the story. Also I just finished Paperback Crush so I'm in a huge BSC mood now!
Add Beware, Dawn to your Goodreads shelf
---
Sheets by Brenna Thummler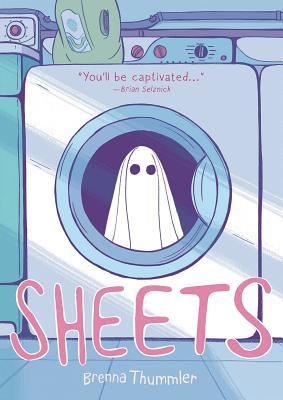 I just started this middle grade graphic novel about a 13 year old girl who helps run a family laundromat and a ghost! I love the bright panels and look forward to seeing where the story goes
Add Sheets to your Goodreads shelf
What are you reading now?