I have already listed my 10 favorite reads of 2018 this year during #LibFaves (it's where librarians share their top ten favorite books of the year, my list is here). So, I'm going to share 10 more books that I loved this year that I haven't talked about yet. I ended up reading 202 books in 2018 so it was nearly impossible to narrow down my original ten picks for #LibFaves so I'm happy to have the chance to highlight more books here!
Here are 10 of my favorite reads of 2018:
1. A Princess in Theory by Alyssa Cole (As I've mentioned before, I started reading romance novels in 2018 and I knew this one needed to be at the top of my list. I can't wait to read more from Alyssa Cole in 2019!)
"Between grad school and multiple jobs, Naledi Smith doesn't have time for fairy tales…or patience for the constant e-mails claiming she's betrothed to an African prince. Sure. Right. Delete! As a former foster kid, she's learned that the only things she can depend on are herself and the scientific method, and a silly e-mail won't convince her otherwise.
Prince Thabiso is the sole heir to the throne of Thesolo, shouldering the hopes of his parents and his people. At the top of their list? His marriage. Ever dutiful, he tracks down his missing betrothed. When Naledi mistakes the prince for a pauper, Thabiso can't resist the chance to experience life—and love—without the burden of his crown.
The chemistry between them is instant and irresistible, and flirty friendship quickly evolves into passionate nights. But when the truth is revealed, can a princess in theory become a princess ever after?"- Goodreads synopsis
2. Pulp by Robin Talley (Pulp was easily my favorite historic fiction of the year and it really made me wish there were so many more books like it in YA! I really love Robin Talley's books and hope to read more from her soon)
"In 1955, eighteen-year-old Janet Jones keeps the love she shares with her best friend Marie a secret. It's not easy being gay in Washington, DC, in the age of McCarthyism, but when she discovers a series of books about women falling in love with other women, it awakens something in Janet. As she juggles a romance she must keep hidden and a newfound ambition to write and publish her own story, she risks exposing herself—and Marie—to a danger all too real.
Sixty-two years later, Abby Zimet can't stop thinking about her senior project and its subject—classic 1950s lesbian pulp fiction. Between the pages of her favorite book, the stresses of Abby's own life are lost to the fictional hopes, desires and tragedies of the characters she's reading about. She feels especially connected to one author, a woman who wrote under the pseudonym "Marian Love," and becomes determined to track her down and discover her true identity.
In this novel told in dual narratives, New York Times bestselling author Robin Talley weaves together the lives of two young women connected across generations through the power of words. A stunning story of bravery, love, how far we've come and how much farther we have to go." -Goodreads synopsis
3. Vox by Christina Dalcher (I read quite a few books this year that ended up being great readalikes for The Handmaid's Tale. Vox was an incredible and suspenseful book about a future that seems so terrifyingly realistic)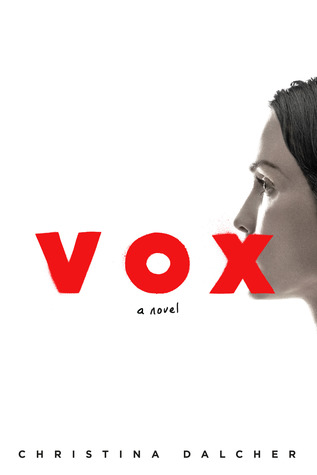 "Set in an America where half the population has been silenced, VOX is the harrowing, unforgettable story of what one woman will do to protect herself and her daughter.
On the day the government decrees that women are no longer allowed more than 100 words daily, Dr. Jean McClellan is in denial—this can't happen here. Not in America. Not to her.
This is just the beginning.
Soon women can no longer hold jobs. Girls are no longer taught to read or write. Females no longer have a voice. Before, the average person spoke sixteen thousand words a day, but now women only have one hundred to make themselves heard.
But this is not the end.
For herself, her daughter, and every woman silenced, Jean will reclaim her voice." -Goodreads synopsis
4. Darius the Great is Not Okay by Adib Khorram (Darius made me cry the most this year. I wasn't expecting to connect so much to a character that I don't have anything in common with on the surface but man I loved Darius)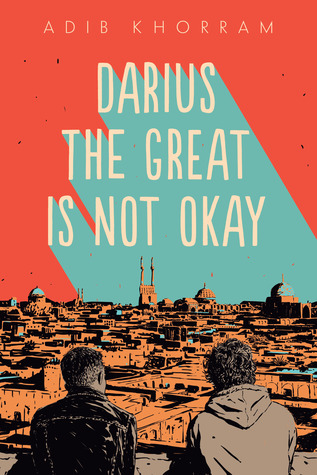 "Darius Kellner speaks better Klingon than Farsi, and he knows more about Hobbit social cues than Persian ones. He's about to take his first-ever trip to Iran, and it's pretty overwhelming–especially when he's also dealing with clinical depression, a disapproving dad, and a chronically anemic social life. In Iran, he gets to know his ailing but still formidable grandfather, his loving grandmother, and the rest of his mom's family for the first time. And he meets Sohrab, the boy next door who changes everything.
Sohrab makes sure people speak English so Darius can understand what's going on. He gets Darius an Iranian National Football Team jersey that makes him feel like a True Persian for the first time. And he understands that sometimes, best friends don't have to talk. Darius has never had a true friend before, but now he's spending his days with Sohrab playing soccer, eating rosewater ice cream, and sitting together for hours in their special place, a rooftop overlooking the Yazdi skyline.
Sohrab calls him Darioush–the original Persian version of his name–and Darius has never felt more like himself than he does now that he's Darioush to Sohrab. When it's time to go home to America, he'll have to find a way to be Darioush on his own." -Goodreads synopsis
5. Analee in Real Life by Janelle Milanes (Analee also made me cry a whole lot this year and it made me count Janelle Milanes as one of my new favorite authors!)
"Ever since her mom died three years ago, Analee Echevarria has had trouble saying out loud the weird thoughts that sit in her head. With a best friend who hates her and a dad who's marrying a yogi she can't stand, Analee spends most of her time avoiding reality and role-playing as Kiri, the night elf hunter at the center of her favorite online game.
Through Kiri, Analee is able to express everything real-life Analee cannot: her bravery, her strength, her inner warrior. The one thing both Kiri and Analee can't do, though, is work up the nerve to confess her romantic feelings for Kiri's partner-in-crime, Xolkar—aka a teen boy named Harris whom Analee has never actually met in person.
So when high school heartthrob Seb Matias asks Analee to pose as his girlfriend in an attempt to make his ex jealous, Analee agrees. Sure, Seb seems kind of obnoxious, but Analee could use some practice connecting with people in real life. In fact, it'd maybe even help her with Harris.
But the more Seb tries to coax Analee out of her comfort zone, the more she starts to wonder if her anxious, invisible self is even ready for the real world. Can Analee figure it all out without losing herself in the process?" -Goodreads synopsis
6.  The 57 Bus: A True Story of Two Teenagers and the Crime that Changed Their Lives by Dashka Slater (I didn't read much nonfiction this year but this book really stayed with me. I read The 57 Bus with my teen book club at the library and really enjoyed the discussion we had too)
"One teenager in a skirt.
One teenager with a lighter.
One moment that changes both of their lives forever.
If it weren't for the 57 bus, Sasha and Richard never would have met. Both were high school students from Oakland, California, one of the most diverse cities in the country, but they inhabited different worlds. Sasha, a white teen, lived in the middle-class foothills and attended a small private school. Richard, a black teen, lived in the crime-plagued flatlands and attended a large public one. Each day, their paths overlapped for a mere eight minutes. But one afternoon on the bus ride home from school, a single reckless act left Sasha severely burned, and Richard charged with two hate crimes and facing life imprisonment. The case garnered international attention, thrusting both teenagers into the spotlight. " -Goodreads synopsis
7. The Love & Lies of Rukhsana Ali by Sabina Khan (Yet another book that made me cry A LOT in 2018! I was so lucky to read this 2019 release early and I know I'll be talking about it all year long.)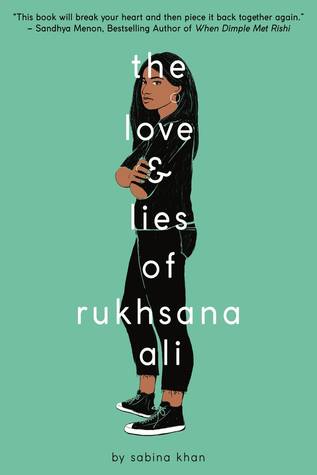 "Seventeen-year-old Rukhsana Ali tries her hardest to live up to her conservative Muslim parents' expectations, but lately she's finding that harder and harder to do. She rolls her eyes instead of screaming when they blatantly favor her brother and she dresses conservatively at home, saving her crop tops and makeup for parties her parents don't know about. Luckily, only a few more months stand between her carefully monitored life in Seattle and her new life at Caltech, where she can pursue her dream of becoming an engineer.
But when her parents catch her kissing her girlfriend Ariana, all of Rukhsana's plans fall apart. Her parents are devastated; being gay may as well be a death sentence in the Bengali community. They immediately whisk Rukhsana off to Bangladesh, where she is thrown headfirst into a world of arranged marriages and tradition. Only through reading her grandmother's old diary is Rukhsana able to gain some much needed perspective.
Rukhsana realizes she must find the courage to fight for her love, but can she do so without losing everyone and everything in her life?" -Goodreads synopsis
8. Things Jolie Needs to Do Before She Bites It by Kerry Winfrey (2018 brought a fantastic new book from Kerry and 2019 is bringing another one! I can't wait!)
"Jolie's a lot of things, but she knows that pretty isn't one of them. She has mandibular prognathism, which is the medical term for underbite. Chewing is a pain, headaches are a common occurrence, and she's never been kissed. She's months out from having a procedure to correct her underbite, and she cannot wait to be fixed.
While her family watches worst-case scenario TV shows, Jolie becomes paralyzed with the fear that she could die under the knife. She and her best friends Evelyn and Derek decide to make a Things Jolie Needs To Do Before She Bites It (Which Is Super Unlikely But Still, It Could Happen) list. Things like: eat every appetizer on the Applebee's menu and kiss her crush, Noah Reed. Their plan helps Jolie discover what beauty truly means to her." -Goodreads synopsis
9. American Panda by Gloria Chao (I loved that this book featured a teen who goes to college early and I know lots of teens and adult readers can relate to Mei. This was such a great read that completely captured the feelings of the main character so well.)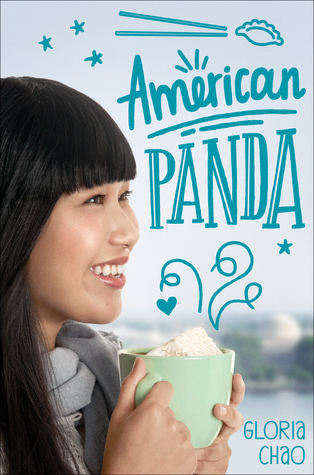 "At seventeen, Mei should be in high school, but skipping fourth grade was part of her parents' master plan. Now a freshman at MIT, she is on track to fulfill the rest of this predetermined future: become a doctor, marry a preapproved Taiwanese Ivy Leaguer, produce a litter of babies.
With everything her parents have sacrificed to make her cushy life a reality, Mei can't bring herself to tell them the truth–that she (1) hates germs, (2) falls asleep in biology lectures, and (3) has a crush on her classmate Darren Takahashi, who is decidedly not Taiwanese.
But when Mei reconnects with her brother, Xing, who is estranged from the family for dating the wrong woman, Mei starts to wonder if all the secrets are truly worth it. Can she find a way to be herself, whoever that is, before her web of lies unravels?"  -Goodreads synopsis
10. To Be Honest by Maggie Ann Martin (Besides having one of my favorite covers of the year, I also really loved this book because it was so fat positive, feminist, and just plain adorable)
"Savannah is dreading being home alone with her overbearing mother after her sister goes off to college. But if she can just get through senior year, she'll be able to escape to college, too. What she doesn't count on is that her mother's obsession with weight has only grown deeper since her appearance on an extreme weight-loss show, and now Savvy's mom is pressuring her even harder to be constantly mindful of what she eats.
Between her mom's diet-helicoptering, missing her sister, and worrying about her collegiate future, Savvy has enough to worry about. And then she meets George, the cute new kid at school who has insecurities of his own. As Savvy and George grow closer, they help each other discover how to live in the moment and enjoy the here and now before it disappears." -Goodreads synopsis
What was your favorite read of the year?