Today's theme is books with characters that we want to switch places with. I don't know that I want to switch places with all of these characters but I love reading books about dancers. A former dancer myself, my favorite books feature ballerinas or teens pursuing a professional career in dance.
Here's 10 books that I either love or can't wait to read that feature dancers:
1. Tiny Pretty Things by Sona Charaipotra & Dhonielle Clayton (This is definitely one of my favorite ballet books, though I would probably want to be one of the background dancers who wasn't dealing with quite so much drama!)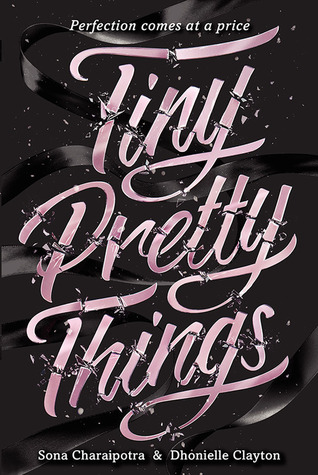 "Black Swan meets Pretty Little Liars in this soapy, drama-packed novel featuring diverse characters who will do anything to be the prima at their elite ballet school.
Gigi, Bette, and June, three top students at an exclusive Manhattan ballet school, have seen their fair share of drama. Free-spirited new girl Gigi just wants to dance—but the very act might kill her. Privileged New Yorker Bette's desire to escape the shadow of her ballet-star sister brings out a dangerous edge in her. And perfectionist June needs to land a lead role this year or her controlling mother will put an end to her dancing dreams forever.
When every dancer is both friend and foe, the girls will sacrifice, manipulate, and backstab to be the best of the best."- Goodreads synopsis
2. Bunheads by Sophie Flack (I remember reading this one right at the end of high school when I was thinking about the end of my own ballet experience and I loved that Hannah was also thinking about life after dance)
"In a crowd of beautiful ballet dancers, how can one girl stand out?
As a dancer with the ultra-prestigious Manhattan Ballet company, nineteen-year-old Hannah Ward juggles intense rehearsals, dazzling performances, and complicated backstage relationships. But when she meets a spontaneous and irresistibly cute musician named Jacob, her universe begins to change.
Until now, Hannah has happily followed the company's unofficial mantra, "Don't think, just dance." But as Jacob opens her eyes to the world beyond the theater, Hannah must decide whether to compete against the other "bunheads" for a star soloist spot or to strike out on her own. " -Goodreads synopsis
3. Audition by Stasia Ward Kehoe (I remember reading this during summer vacation in high school and thinking that a ballet scholarship sounded like a dream!)
"When high school junior Sara wins a coveted scholarship to study ballet, she must sacrifice everything for her new life as a professional dancer-in-training. Living in a strange city with a host family, she's deeply lonely-until she falls into the arms of Remington, a choreographer in his early twenties. At first, she loves being Rem's muse, but as she discovers a surprising passion for writing, she begins to question whether she's chosen the right path. Is Rem using her, or is it the other way around? And is dancing still her dream, or does she need something more? This debut novel in verse is as intense and romantic as it is eloquent." -Goodreads synopsis
4. Our Year of Maybe by Rachel Lynn Solomon (Our Year of Maybe is my favorite recent book about a dancer! I loved that Sophie is not only a dancer but a choreographer.
"Aspiring choreographer Sophie Orenstein would do anything for Peter Rosenthal-Porter, who's been on the kidney transplant list as long as she's known him. Peter, a gifted pianist, is everything to Sophie: best friend, musical collaborator, secret crush. When she learns she's a match, donating a kidney is an easy, obvious choice. She can't help wondering if after the transplant, he'll love her back the way she's always wanted.
But Peter's life post-transplant isn't what either of them expected. Though he once had feelings for Sophie too, he's now drawn to Chase, the guitarist in a band that happens to be looking for a keyboardist. And while neglected parts of Sophie's world are calling to her—dance opportunities, new friends, a sister and niece she barely knows—she longs for a now-distant Peter more than ever, growing increasingly bitter he doesn't seem to feel the same connection.
Peter fears he'll forever be indebted to her. Sophie isn't sure who she is without him. Then one blurry, heartbreaking night twists their relationship into something neither of them recognizes, leading them to question their past, their future, and whether their friendship is even worth fighting for. " -Goodreads synopsis
5. Up to this Pointe by Jennifer Longo (This is one of my favorite books because I love ballet and dream of going to Antarctica one day!)
"She had a plan. It went south.
Harper is a dancer. She and her best friend, Kate, have one goal: becoming professional ballerinas. And Harper won't let anything—or anyone—get in the way of The Plan, not even the boy she and Kate are both drawn to.
Harper is a Scott. She's related to Robert Falcon Scott, the explorer who died racing to the South Pole. So when Harper's life takes an unexpected turn, she finagles (read: lies) her way to the icy dark of McMurdo Station . . . in Antarctica. Extreme, but somehow fitting—apparently she has always been in the dark, dancing on ice this whole time. And no one warned her. Not her family, not her best friend, not even the boy who has somehow found a way into her heart." -Goodreads synopsis
6.  I Wanna Be Where You Are by Kristina Forest (I can't wait to read this YA book about a dancer and was so super happy to get an ARC of it in the mail last week! It has the prettiest cover!!)
"In a world where it's easy to lose faith in love, I WANNA BE WHERE YOU ARE is a brilliant burst of light. A dazzling debut." ― Nic Stone, New York Times bestselling author of Dear Martin and Odd One Out
When Chloe Pierce's mom forbids her to apply for a spot at the dance conservatory of her dreams, she devises a secret plan to drive two hundred miles to the nearest audition. But Chloe hits her first speed bump when her annoying neighbor Eli insists upon hitching a ride, threatening to tell Chloe's mom if she leaves him and his smelly dog, Geezer, behind. So now Chloe's chasing her ballet dreams down the east coast―two unwanted (but kinda cute) passengers in her car, butterflies in her stomach, and a really dope playlist on repeat.
Filled with roadside hijinks, heart-stirring romance, and a few broken rules, I Wanna Be Where You Are is a YA debut perfect for fans of Jenny Han and Sandhya Menon." -Goodreads synopsis
7. Bright Burning Stars by A.K. Small (I am so in love with the cover of this ballet book and can't wait to step into the world of the Paris Opera Ballet School)
"Best friends Marine Duval and Kate Sanders have trained at the Paris Opera Ballet School since childhood, where they've formed an inseparable bond forged by respective family tragedies and a fierce love for dance. When the body of a student is found in the dorms just before the start of their final year, Marine and Kate begin to ask themselves what they would do to win the ultimate prize: to be the one girl selected to join the Opera's prestigious corps de ballet. Would they die? Cheat? Seduce the most talented boy in the school, dubbed the Demigod, hoping his magic would make them shine, too? Neither girl is sure.
But then Kate gets closer to the Demigod, even as Marine has begun to capture his heart. And as selection day draws near, the competition—for the prize, for the Demigod—becomes fiercer, and Marine and Kate realize they have everything to lose, including each other." -Goodreads synopsis
8. So Done by Paula Chase (I love that this middle grade novel features black girl dancers!)
"Jamila Phillips and Tai Johnson have been inseparable since they were toddlers, having grown up across the street from each other in Pirates Cove, a low-income housing project. As summer comes to an end, Tai can't wait for Mila to return from spending a month with her aunt in the suburbs. But both girls are grappling with secrets, and when Mila returns she's more focused on her upcoming dance auditions than hanging out with Tai.
Paula Chase explores complex issues that affect many young teens, and So Done offers a powerful message about speaking up. Full of ballet, basketball, family, and daily life in Pirates Cove, this memorable novel is for fans of Ali Benjamin's The Thing About Jellyfish and Jason Reynolds's Ghost" -Goodreads synopsis
9. The Midnight Dance by Nikki Katz (I won an annotated ARC of this book and I've been saving it to read because I know I'm going to love it so much. I want to keep it for a day when I need a really good read)
"When the music stops, the dance begins.
Seventeen-year-old Penny is a lead dancer at the Grande Teatro, a finishing school where she and eleven other young women are training to become the finest ballerinas in Italy. Tucked deep into the woods, the school is overseen by the mysterious and handsome young Master who keeps the girls ensconced in the estate – and in the only life Penny has never known.
But when flashes of memories, memories of a life very different from the one she thinks she's been leading, start to appear, Penny begins to question the Grand Teatro and the motivations of the Master. With a kind and attractive kitchen boy, Cricket, at her side, Penny vows to escape the confines of her school and the strict rules that dictate every step she takes. But at every turn, the Master finds a way to stop her, and Penny must find a way to escape the school and uncover the secrets of her past before it's too late."  -Goodreads synopsis
10. Pointe by Brandy Colbert (This is another one that I've been saving to read because Brandy is one of my favorite authors. I know I'll get to this one eventually but I love knowing that I still have a Brandy book that I haven't read yet)
"Theo is better now.
She's eating again, dating guys who are almost appropriate, and well on her way to becoming an elite ballet dancer. But when her oldest friend, Donovan, returns home after spending four long years with his kidnapper, Theo starts reliving memories about his abduction—and his abductor.
Donovan isn't talking about what happened, and even though Theo knows she didn't do anything wrong, telling the truth would put everything she's been living for at risk. But keeping quiet might be worse." -Goodreads synopsis
What's your favorite book that features one of your hobbies?